Digital Resume Builder for
Oil & Gas Professionals
Create a job-ready resume within 5 minutes!
&
Apply to 1000 of jobs
Create Digital Resume
*Signup for free
Get hired by the worlds's top Oil & Gas employers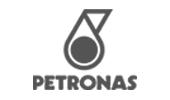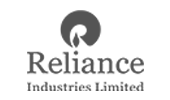 More than 1 million recruiters use Digital Resume for Hiring
APPLY SMART IN O&G INDUSTRY WITH ENERGY DAIS

A Digital Resume that gets you noticed
Make an everlasting impression on recruiters with your Digital Resume.

Resume by the Experts
Gain insights from our experts and give a professional makeover to your resume

Apply for Jobs Instantly
Apply for 1000's of jobs in the leading O&G companies around the world with just a click
Stay on the forefront of digitizing oil and gas industry
BUILDING A DIGITAL RESUME IS SIMPLE AND EASY
---
CHOOSE
1. Select a template that can best reflect your skills and expertise
---
UPDATE
2. Fill in and update your information, publish and share.
---
APPLY
3. Use Digital Resume to apply for global oil and gas jobs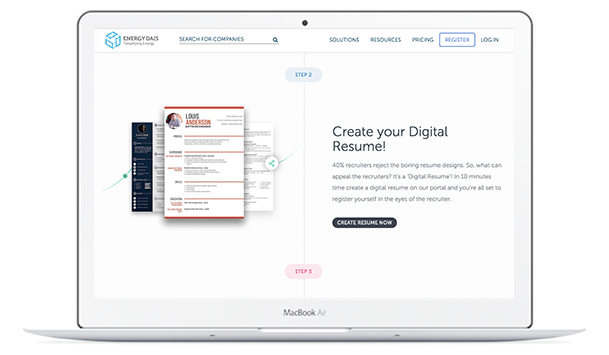 REPRESENT THE BEST OF YOURSELF WITH PROFESSIONAL RESUMES.
Get noticed with
Professional templates
A well-crafted professional resume can help you make a far-reaching impact. To make that first great impression, we offer the most relevant resume template options to meet each job seeker's needs.
With our professional templates, you will be able to highlight what the recruiters across the industry want to see and enhance your chances of selection. Add information that matters and edit the templates effortlessly. In a couple of minutes, you can introduce yourself with a Digital Resume that gets noticed by the best.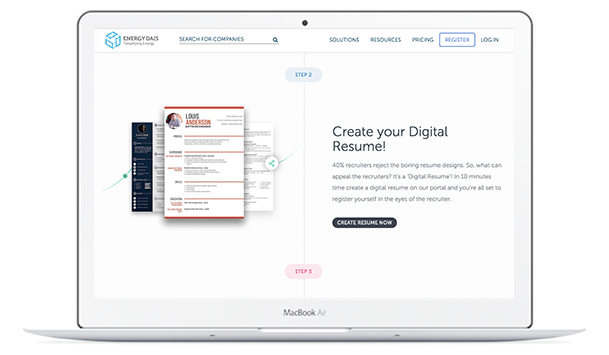 SPECIALIZED COURSES IN Oil & Gas
Learn with Energy Dais
Learning is a never-ending process for an oil and gas professional. Energy Dais, in partnership with online learning platforms, brings to you highly professional and technical courses.
Grow in your career with courses that are specifically designed for your cognitive development and stay competitive for the modern oil and gas industry.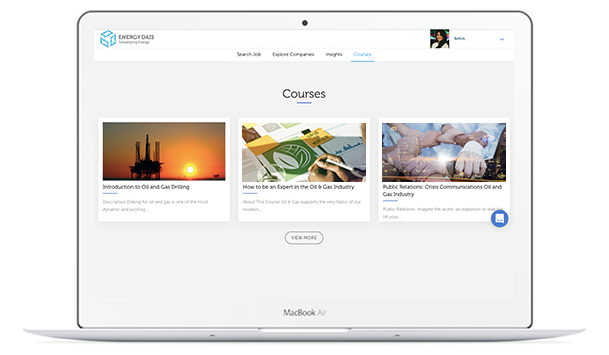 Expert Consultation Service
Get best advice to grow your Oil & Gas career
Signup for free
Instant access to resume builder

Get started Instantly. Free Signup

Online access and synchronization

1500+ jobs from all Streams

Career Help & Insights from Experts