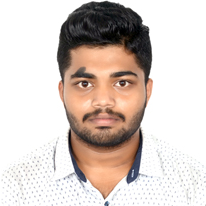 Prasanna Kumar
Trainee engineer
Current Deep Industries
Education Bachelor's Degree, Academy of Maritime education and training
Summary
To gain experience in my domain and apply the knowledge obtained in order to achieve excellence and provide effective progress and growth to the Oil & Gas Industry.
Education
Academy of Maritime education and training
Bachelor's Degree
Oil and gas deposits, or reservoirs, are located deep in rock formations underground. These reservoirs can only be accessed by drilling wells, either on land or at sea from offshore oil rigs.
Experience
Deep Industries
Trainee engineer
Responsible for assisting with drilling function and performing maintenance of equipment. Assist with operation of drilling rig, and support equipment effectively. Assists in loading and unloading equipment. Assist on the working floor - normal drilling procedures. Mix mud for pit.
Skills
Drilling Engineering
Beginner
Languages

English

Hindi

Tamil